Our Bedroom range Listed by wood sort.Click on photo to enlarge.
Redheart beech
---
Our bedroom furniture is very light in redheart beech as shown in this setting. Notice the through going sides and top board. Our wardrobes are also equipped with doors with softclose.
The models on this photo are:
1163M wardrobe
2137M nightstand
1335E bed
1598A armchair with wooden seat
---
A dyrlund bedroom need not be with a wardrobe for rooms without sufficient space or simply for a lighter look.
The models on this photo are:
1335E bed
1176M-163 wall hanging shelf
1133M highboard
2137M nightstand
1589A armchair with leather 40516 Tomato
---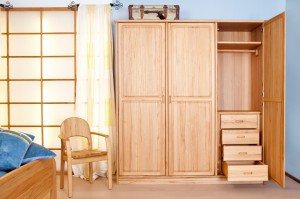 The 1163M wardrobe (along with our other wardrobes) now also comes with drawers behind the doors as shown. More details available by clicking on the photo.
The models on this photo are:
1163M wardrobe with interior as follows
1172M shelf
1173M shelf
1170M crossbar
1171M crossbar
1160M4 4 inside drawers
---
Teak
---
Our 1335 beds are available in a number of sizes and wood sorts, and can be combined with matching nightstands, , wardrobe combinations and dressers from our frederiksborg all solid or veneered rosenborg range. Our secretairies with leather writing pad are perfectly suitable for use in the bedroom as the upper section can be locked offering protection for your your jewelry, or laptop computer.
The models on this photo are:
1335E bed
2139M nightstand
1156M secretary
1592A armchair comfort 0049
---
The 1532 beds with focus on the beautiful curved head and foot board are still held in high esteem by many of our customers. The wardrobes can be extended as much as you wish if you prefer the frederiksborg 2100 series or rosenborg 2900 series designs, where sides extend over the top board.
Shown in the photo is:
1532E bed
2139M nightstand
K7 wardrobe combination
---
The 2144M dresser is very useful with its deep drawers and door on the left hand side. The drawers have full extension slides with integrated softclose function, as well as soft close on the door, which helps the unit function both elegantly and quietly.
Our bed models can be delivered in extended bed height making it easier to get in and out of the bed.
Shown in the photo is:
1335E bed
2139M nightstand
2144M dresser
---
The appearance of our frederiksborg 1100 series, shown here, where the top is exceeding the sides, is quite different from the frederiksborg 2100 series, where the sides extend over the top.
Shown in the photo is:
1332E bed
1139M nightstand
1144M dresser
K9 frederiksborg wardrobe combination
---